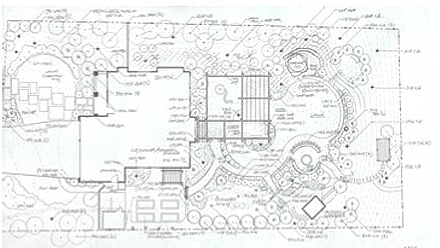 MOZAIC LANDSCAPES
Every client and landscape is unique. Mozaic Landscapes addresses this with
various sevices and packages
to suit the size, complexity and requirements of each project. A preliminary survey and assessment offers guidance in what's best for your project.
CONSULTATIONS
Consultations provide
on-site and immediate guidance
. The designer comes to your property ready to address your most pressing issues. Preferred referrals, samples, color charts, handouts as appropriate, and a copy of notes guide you to your next step. Topics vary and can range from discussing design ideas, enhancing curb appeal and home value, project direction and planning, plant/pest i.d., paint color selections, shapes marked in the field, or a second opinion on a set of plans. If you decide to continue on with additional drawing services, a discount is given. Two hour consultations start at $350.
DESIGN MODULES AND ON-SITE DRAWINGS
On-site conceptual and planting layout drawings address the need for
immediate landscape plans on paper
, efficiently and economically and allow you to participate in the process. An extensive
client profile
, photos, and follow-up allows the designer to arrive ready to design from your site plan, or one provided. Two separate design sessions can be scheduled: a
concept design
providing the "big" picture of shapes, layouts, components, accents, and major tree placements, and
planting design
with
plant palette list
providing botanical selections, sizes, quantities, and placement ready to install. Costs start at $750/module.
FULL SERVICE, IN-STUDIO DESIGN
For those projects that desire the quality time, consideration and research needed for a high end result, plans are produced in the studio. Typically for projects larger in scope, complexity and budget, Mozaic Landscape refers licensed professionals as appropriate in the development of construction details and submittal documents. Call for a no-obligation initial meeting to review the needs of your project.
PROJECT DESIGN MANAGEMENT
Project design management is recommended for those landscapes seeking to achieve magazine quality results. Overseeing from beginning to end, we maintain good communication among contractors and artists during installation, attending to details for good translation from paper to field. On-call and ready to check chalk layouts, viewsheds, answer frequent questions, hand-select materials, plants, furniture, pots and more-- your time and attention over a landscape under construction is eased. Project design management is generally charged out by the hour.
BUDGETING COSTS
Spending on good planning and design is an investment, by which you see a return in increased home value, avoid costly mistakes and re-dos, and have a smoother installation with satisying results. Because projects vary so widely in size, scope, and complexity, so do design costs. However, a good place to start when considering costs is to allot about
8-15% of your budget to design
, 3-5% for permitting, inspections, 70% for construction and materials, and 15% for overages, contingencies, and/or upgrades. Call for an assessment of your project.
Sample Drawings