The process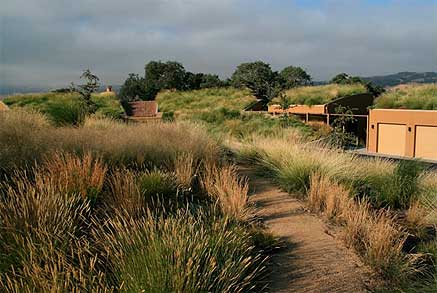 When the property owner, designer, and site come together in a meeting of hearts and minds, a great design begins. Can a property have a heart and mind? We delve into research to uncover the natural "intelligence" of each site, to foster a sense of place. By deeply understanding and connecting with client desires and the site, the design path to creating an inspiring, sustainable and beautiful environment unfolds.
The firm and projects
Mozaic Landscapes is the design firm of owner and designer Cynthia Tanyan, based out of the Sunol/Niles Canyon area. With over twenty years experience, the Mozaic name represents the coordinated teamwork of professions, trades, and suppliers it takes to work together to achieve the best results. Projects span a broad range from a backyard bicycle pump track, a Native American sculpture garden, an extensive modern greenroof, to hundreds of other custom stylized outdoor living and entertaining areas. The foundation for all Mozaic designs is ensuring they are well-adapted to the surrounding environment, climate and client lifestyle. A landscape has to not only look and feel beautiful, but work beautifully as well. In California's SF Bay Area, drought tolerance and low-maintenance are key to ensuring unique and creative ideas stand the test of time.
Cynthia Tanyan, Owner and Designer
With a Masters in Ecological Landscape Design (Conway, MA),

Master Gardener training, A.A in Environmental Horticulture, Ms. Tanyan brings an intelligent approach and respect for plants, soil, ecology to all projects. Recent certifications include: irrigation (2014) and in greenroofs (GRP 2009). Ms. Tanyan's designs have been featured in various publications and books including Sunset, Watershapes, and People, and The American Meadow Garden, by J. Greenlee. She is honored to receive Sunset magazine's "Best in the West Award" (2009), and Dream Gardens, Editor's Pick (2011). She frequently guides design on the project site during installation, and shares credit with her husband Francisco Villa, his talented crew, and other skilled professionals that work from the heart to insure excellence in the final result. She can be reached at